Welcome to
BodenTriplets.com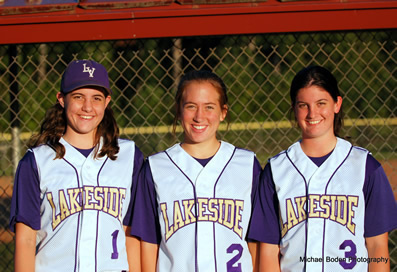 It's Graduation season, a time of year when everyone is looking for an inspirational and motivational story to drown out the daily negativity in the news. Look no further. On May 22nd the Boden Triplets, Lauren, Stephanie, and Allison separated at birth 17 years ago by only 45 seconds will graduate as the top three students from their Dekalb County Georgia high school class of over 300 separated by only a single grade in one AP course. Lauren, who earned straight A's throughout her school career including 9 AP courses, will be the Valedictorian while Stephanie and Allison, who received their only B in AP Calculus BC, will be Co-Salutatorians. While the odds of three triplet sisters performing academically at this level are astronomically small, the fact that their two younger siblings Susanne(15) and Michael(13) are on the same trajectory suggests that there is either something special in the water there or some excellent parenting. The triplets were recruited as student athletes by many top schools and have decided (independently) that all three will attend Pomona College this fall where they are expected to play both softball and golf.
This story begins with academic excellence but doesn't end there. These extraordinary ladies are state-wide recognized athletes in 3-4 sports each, Editors of the Newspaper and Yearbook, involved in the school service organization, Student Government Class Leaders, and involved in their community as volunteer coaches for younger children in sports. Perhaps fighting for their lives, born prematurely at 32 weeks (Allison weighed barely 2 pounds), helped begin the hard work ethic for all three, and each of them overcame their own special challenges. All three girls continued to play baseball (not softball), softball, basketball, and golf at a competitive level, but each has their favorite.
Lauren preferred baseball over softball and overcame persistent discouragement by the high school baseball coach to ultimately be the first girl to make the high school baseball team. She also went on to get a Guinness World Record for fastest baseball pitch by a female which appears in the 2010 hard cover book. Lauren and her sisters also were on a team two years ago that won the first Roy Hobbs Girls (15U) Baseball World Series. In the championship game, Lauren pitched a complete game, 1 hit shutout, with 20 strikeouts, and 1 walk. Lauren has been ranked in the top 40 Women's baseball prospects and will be competing for a position on the 2010 Women's National Baseball Team which competes in a world cup level competition this summer.

Allison's passion is golf. She put in extra time and dramatically lowered her scores leading her as Captain of the golf team to several County Championships. In her junior year, she "loses her swing" and is essentially unable to hit a golf ball. Rather than giving up after all three instructors at a local club tried to fix her, she ultimately had to work to rebuild her swing from scratch. After months of rebuilding a new swing, she again competes effectively in tournaments, led her team to compete at the State level, and gets recruited to play golf in college.

Stephanie in addition to playing Varsity softball since Freshman year, plays travel softball. Stephanie like her sisters is athletic and bright but has no performing arts talent which is usually a major limitation to winning a beauty contest. To "expand her comfort zone" she entered the Miss Lakeside High School talent and beauty pageant earlier this year (never having seen a pageant before) and actually won in a field of 29 talented contestants – crowned The 2010 Miss Lakeside. A real life version of the jock turned beauty queen story.

Finally, these young ladies are also involved with community service, volunteerism, and have been known to help many friends and younger siblings of friends to learn their school work and study for tests – proving their willingness to help others and give back. One blogger recently wrote: "These young ladies are the hardest working students at Lakeside High. It is well known in the neighborhood that if your child is having trouble with homework that you can call the Boden's house at 2 AM and one of the triplets will be awake and willing to help". Another blogger, apparently an opposing coach wrote: "I've coached against these girls for 4 years and even though I am 1-3 against them, it's hard not to like them".

These extraordinary young women have beaten the odds since birth and serve as an inspiration to parents and other students that know them in their local community. It's time that the rest of America got to know their extraordinary story.